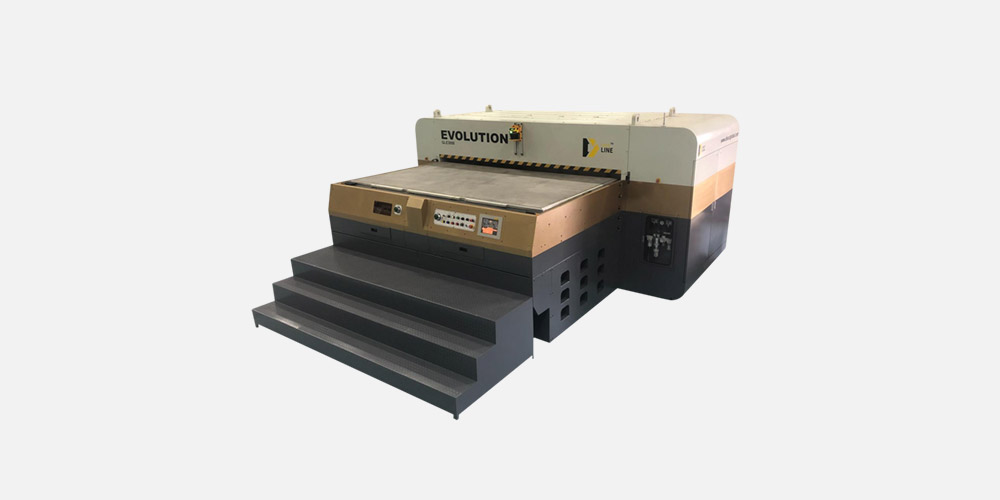 The Evolution by Goldline is here! After 6 years in working trials, and with the original Goldline installed all over the USA, Canada and the UK, we have now collected all the data and feedback from many different production environments and with hours of time spent in research and development, the generation two machine has been produced.
Available in seven different sizes, The Evolution is built with safety in mind but also understanding the operator's requirements for a quick job change over. The machine comes with full laser and electronic eye safety system to prevent access to any trap points, quick and easy electronic pressure settings and the chase system is secured in place with multiple hydraulic locks.
The machine is fitted with a patent-pending shuttle system that delivers perfect registration. The platen system is powered by a dual knuckle system giving it maximum cutting pressure of up to 550 tons. With ergonomically designed controls, the operator can control the speed of the machine with ease.
The new machine has many features with a number of advantages and benefits over its predecessor The Goldline (mark one) as well as improvements over any like for like machine and the old style clam shell presses.
We now have a one fits all scenario where we have a machine that has the tonnage to cut the most complex free standing display units (FSDU) to the thickest plastic, all grades of corrugated board and display board, rigid PVC's, plastics, polypropylene, leather and even kiss cutting self-adhesive vinyl. The machine has been designed to perform in all types of industries including carton, corrugated and automotive to name just a few.
As a responsible machine manufacturer and someone who has sold hundreds of hand fed platens all over the world in the last 25 years, I knew the dangers of the original clamshell press. This was confirmed in recent history when people who simply operated them paid the highest price, on machines my old company had sold back when I was the sales director and co-owner of Crosland. I thought if I cannot bring to market a machine that not only does the same job but does it in a safe way, a way that jobs can be set up faster, it was easy for the operator to use and bring it to market at a comparable price to the old technology, then I was not doing my job. Safety is a must!
As the former owner of Crosland, a name synonymous with Diecutting, and then 2 years into my new venture with Diecut Global, along with Emmerson Koo of Wook IL Machinery, we sat down and designed the replacement for a manual clamshell diecutter, enlisting the help of heavy engineering experts and electrical designers. The original Goldline was born and with the first installation in London later that year, the start of the revolution began.
We now have machines in many industries, cutting anything from display work, corrugated packaging, heat sealing plastic corrugated and cutting all grades of PVC. We have developed Goldlines to cut honeycomb board and thick foams to even kiss cutting vinyl. During this five year period the machine has evolved into a true workhorse in a 24/7 environment. We overcame many challenges and changed things from the basic structure to the shuttle system, even the cutting plates have been specially modified to deal with any substrate.
We would like to thank all the people and companies that embraced this technology at an early age. People who were innovative enough to take a risk and run down the road of development with us. We would like to say a special thank you to Rick Bleek, Director at SMP Group PLC, London who was the man to put his faith in Diecut Global and develop this machine with us. He not only took delivery of the first ever Goldline but after five years bought another, installed just months ago.
The team and expertise have also evolved along the way. The Goldline machine is built under license at the same factory our Redline semi automatic/automatic machine is produced by machinery experts Wook IL. Mr Bang, the president is part of the original team who developed semi automatic platens and Wook IL have been producing machines since 1981.
For more information please visit www.goldlineevolution.com, call +44(0)845 200 4076 or email sales@goldlineevolution.com.